What is the Residential Academy (RA)?
Besides the formal colleges and departments which are responsible for student's professional education, many universities have also established Residential Academies (RA) focusing on cultivating students' attitudes and abilities toward life instead of professional proficiency. KMU is the only university in Taiwan which comprehensively implements RA education for freshmen. Its main purpose is to help students to get used to the life at KMU and develop positive attitude and soft power.
The Organization of KMU Residential Academy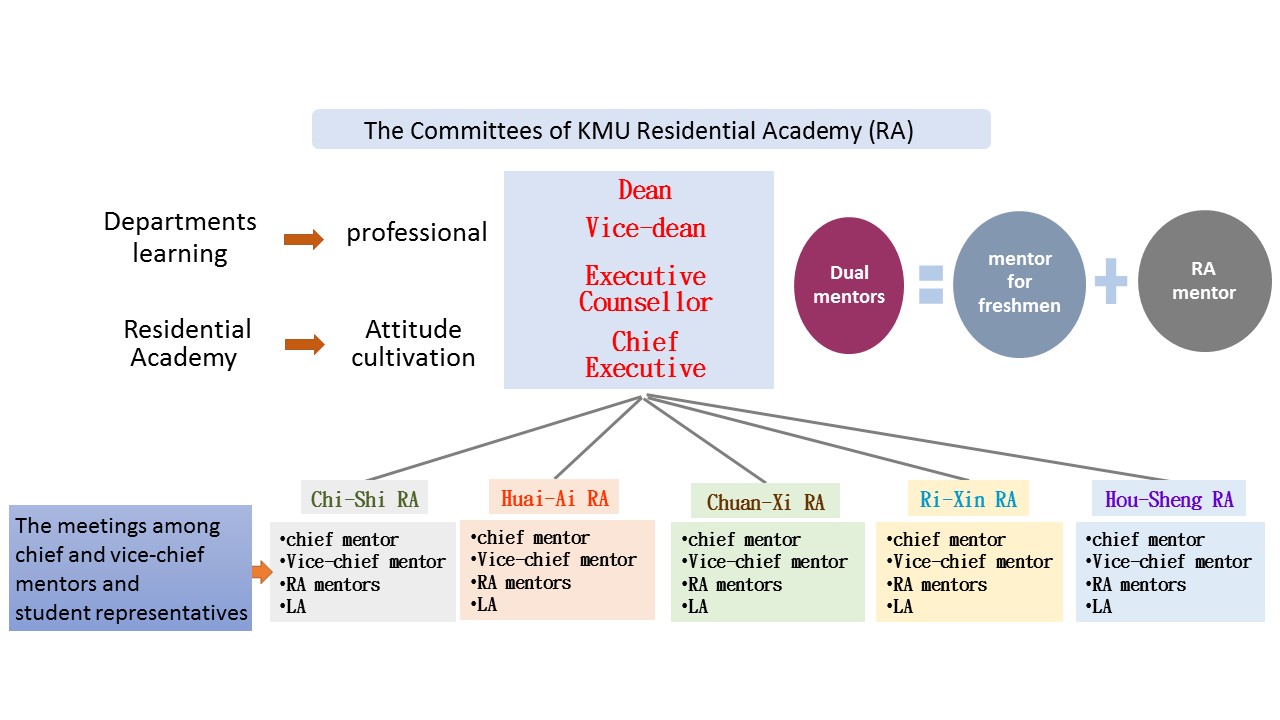 How does KMU implement RA education?
In order to assist all KMU freshmen, RA mentors and Learning Assistants (LA) are arranged. The team is led by the KMU principal who is the Dean of RA. The rest of the RA committees include the vice-president (the Vice-dean), the dean of Student Affairs, the Dean of Education Affairs, the Dean of Humanities and Social Sciences and the Director of General Education who are the Executive Counsellors of RA.
The RA at KMU distributes students into five sub-academies, Chi-Shi, Huai-Ai, Chuan-Xi, Ri-Xin and Hou-Sheng. Each sub-academy is further divided into various sub-systems, which are termed as "families" under RA education in order to break down the boundaries among departments. Bringing students and teachers from different professions into the same family can help increase interactions and understandings among different departments and enhance the ability of communication.
The colleges and departments are responsible for students' professional educations, using the courses designed based on their own department. The RA, on the other hand, is responsible for cultivating freshmen's ability to adapt new college life and soft power by designing cross-departmental co-learning activities. The RA will hold welcome activities during the orientation week. With the beginning of new semester, various co-learning activities designed by each family or sub-academy will be implemented aiming at promoting learning through entertainment. In addition, the RA will hold a series of lectures relevant to "Classic Figures" and development programs for the cultivation of soft power. Each family will hold dining activities for teachers and students to develop their tight bonding. Several special areas equipped with handful facilitates are available for the practice of RA activities: "Academy Garden" (2nd floor of the Alumni House), "Nutrition Classroom of Nursing College" (3rd floor of the First Teaching Building) and " Creative Space" (B2 floor of Chi-Shih Building).
The combination of RA education with University Entrance Courses (30%)
Starting from the first semester of 106 academic year, the RA Education will account for 30% of the credits for "the University Entrance Course." It will be offered at the first semester and is a compulsory subject for all freshmen. The lectures of "Classic Figures" , development programs for soft power, co-learning day and family dining activities will be listed in the credits. The RA freshmen have to join the events, including two "classic figures" lectures, two soft power development programs, activities of co-learning day and family dining.
The Lectures of "Classic Figures"
Brilliant alumni will be invited to introduce KMU's founding process, classic figures, history and future vision. With the sharing of the life experiences from the alumni with students, KMU's tradition and spirits hence can be inherited.
The RA will hold a series of multiple development programs to enhance students' soft power, including six major topics: Communication and Expression, Interpersonal Interaction, Continued Learning, Integration and Innovation, Group Cooperation, and Ethical Caring.
Co-learning Day
The RA will arrange the students from different departments into one family. Each family will hold activities, titled "Co-learning Day" aiming to increase students' chances of interaction and enhance their abilities of living with others.
Family Dining Activities
The meetings between RA mentors and their students help the teachers to know more about students' school life, enhance students' understanding toward the campus, and discuss plans of future career and employment. This not only promotes career-knowledge and self-understanding, but develop essential attitudes and vocational interests for their professions.
Features of the RA at KMU
Autonomous Education
RA Mentors and Learning Assistants will guide students from each family to do self-planning and carry out "Family Co-Learning Activities" that match the spirit of the RA. It helps promote the communication among students and teachers and the capability of program planning. Each sub-academy can autonomously plan co-learning activities based on their discussion. For example, the co-learning activity from Hou- Sheng academy last semester was to invite student, who is capable of Origami, to give a lecture to share the Art of Origami and let the students make their own Origami. Through the sharing process, people can see the good of each other and promote a nice interpersonal interaction.
Integrated Education
The RA education has combined students' dormitory with department or club activities. The RA encourages Dormitory Council, departments and clubs to hold activities reflecting the RA spirits: helping students develop nice characters and life attitude, cultivating career soft power and cross-domain capabilities. These activities can be approved as RA activities and freshmen will be encouraged to attend these optionally academy activities by their RA mentors and Learning Assistants (LA). For example, during the last academic year, the RA cooperated with KMU Student Association and invited famous artists, William Hsieh (謝祖武) to share his experience about interpersonal communication and career planning.
Multiple Education
RA Mentors and Learning Assistants will guide freshmen to participate in all kinds of Soft Power Development Programs, which help freshmen to explore their own potentials and visions about future career.
The Residential Academy (RA) at KMU welcome you to join our big family. We sincerely hope that you will have a wonderful and exciting college life here.